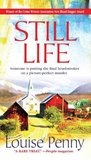 Still Life
by
Louise Penny
My rating:
4 of 5 stars
This is my first book by this author, and it won't be the last! It is a very good mystery - interesting characters, wonderful sense of place, excellent pacing. I sat down to read it around 3, and didn't put it down until I finished, a little after 9. I had to see if my theory of "whodunnit" was right! (And it was!)
The book is set in a rural village in Quebec, which the author populates with a great cast of characters. Some are likable, some are really NOT likable, but all seem real. Chief Inspector Armand Gamache is definitely likable, but he, too, is very real. He's not perfect, he makes mistakes, but his heart is in the right place. His investigative skills are second to none, but his real strength (and what makes him interesting) is his desire to see his team members grow and succeed. He is very into teamwork and mentoring. And this actually plays a role in the development of the story, as he tries to bring along a new team member. His strength as an investigator is observation - sitting back and watching the villagers interact, talking with them, etc. In this way he learns about each suspect, and begins to develop motives for them. He and his team make some wrong turns, here and there, but eventually the killer is uncovered (of course.)
Quite early on, I figured out who the murderer was, but there was enough doubt that I kept reading. And the author's skill with character development and storytelling kept me riveted. The journey to discovery, and finally learning the details, made for a quite enjoyable read. Overall, it seemed like a modern Agatha Christie mystery, with better characters. For those who aren't into gunfights, car chases and explosions, this is just the ticket! This is a quiet, cerebral mystery, full of wonderful characters. Get a cup of tea, settle in and have fun.